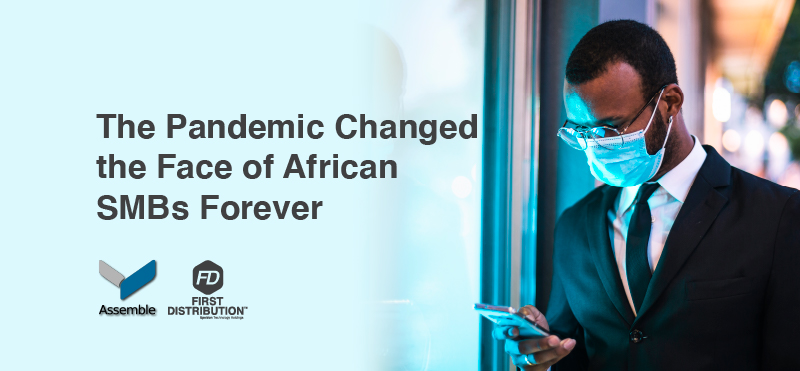 "Due to the current economic outlook, we're not in a position to go ahead with this project." In March 2020, numerous emails with a similar message landed in software solutions company Assemble's inbox. And they weren't alone.
For many companies, the effects of the pandemic have caused a backward step, reversing growth as they are forced to close their front doors and find new ways to serve customers. But just like Assemble, many small and medium sized businesses (SMB) have pivoted their business proposition faster and more structurally than many larger businesses could manage.
Throughout the pandemic, SMBs have shown why they are the engine powering many global economies. In the African region, they play a significant role in most economies and employ an estimated 80% of the continent's workforce. In the face of terrible adversity, like COVID-19, the adaptability they have shown is remarkable. Part of that is no doubt down to their own leaders' grit. But another major factor is the technology that's now available.
Cloud computing is one of the most significant technological advances of our time. It levels the playing field by providing small businesses with the same applications and tools that their larger counterparts use. Many businesses are already convinced about its value, with the question of migration into the cloud often being a case of 'when' rather than 'if'.
For that reason, it has been those SMBs who have embraced cloud computing early that survived, or even thrived, during an intensely difficult period.
With many businesses moving either partially or wholly towards an exclusively online model, the pandemic presented a unique moment in time to try cloud services for their operations. Through necessity, rather than choice, many started using cloud tools to communicate, coordinate with colleagues and manage their work.
This shift towards the cloud among SMBs does not look like it will slow down any time soon, even as offices and other offline business premises start opening up. Cloud has levelled the playing field for many small businesses by offering flexible, elastic use. During times of particularly heavy network traffic, cloud can scale up in real time. Conversely during downtime, capacity can shrink so businesses aren't paying for bandwidth they don't use. Furthermore, customers can pay as they go, meaning there are no upfront costs.
Adding to this is the ability to stay current with all the latest cloud apps and updates. Patches or new versions can be taken care of by cloud providers and app developers rather than the businesses themselves, freeing them of the need to hire huge teams of in-house technical talent – and once again leveling the playing field for SMBs.
For those SMBs that don't have the technical expertise to migrate to the cloud or the strategy to optimise solutions, there are plenty of partners available to lend a hand. At AWS, we have our AWS Partner Network (APN) – a community of tens of thousands of businesses that specialise in building solutions and services for every type of customer.
Take First Distribution, a South African based company that works with AWS to deliver complex and technical go-to-market strategies. With a business model based on collaboration, the company knew that the APN was a place to connect with companies that needed increased flexibility, scalability, and reliability.
For software solutions company Assemble, connecting with First Distribution was essential to completing its transition onto the cloud. Its first project – a custom workflow system to report, analyse and combat incidents of disinformation and fake news – became vital during 2019 South African elections. It was following the success of this first cloud-based solution built with AWS, that Assemble realised a partner such as First Distribution would allow them to take things to the next level and leverage the full benefits of cloud during a period of rapid growth.
The organisation was able to build and deploy a mobile app, with an integrated administration system, in four weeks. First Distribution was central to overcoming the technical challenges, providing advice, and retraining staff within an extremely short period of time.
It meant a regroup and refocus of skills in the cloud space for Assemble, with the experience to build new, distinctive solutions in the future that solved genuine problems quickly.
The case for cloud adoption was made long ago, the corona virus pandemic simply accelerated its adoption. The cloud has leveled the playing fields with big businesses, offering flexible payment models that dramatically lower the barrier to entry.
Best yet, in-house expertise isn't necessarily a precondition for success as many businesses just like Assemble are working together with a partner in the AWS Partner Network to unlock the full potential of the cloud.